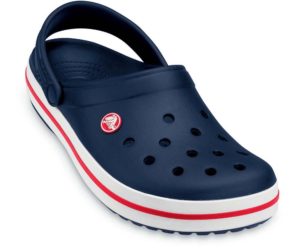 In our November 2007 newsletter, located we discussed the protectability of fashion designs in light of the introduction of the Design Piracy Protection Act (the "DPPA"), Congress's proposed legislation to give fashion designers a clearer path to securing protection for their designs and compensation for infringements of those designs.
As readers of our newsletter and blog will recall, existing intellectual property regimes such as copyright and trademark have generally provided inadequate protection of fashion designs.  As a result, knockoff artists found it easy to proliferate their imitation goods without much fear of legal retaliation.
However, as two Chinese companies recently discovered, not all fashion designs are ripe for easy plucking, even without the DPPA.  Jibbitz LLC, a subsidiary of Crocs (makers of the ubiquitous molded resin footwear), recently won a $56 million default judgment against the two companies and several individuals for infringement of Jibbitz's copyrighted designs (original story here).
Jibbitz manufactures ornamental charms for decorating shoes such as Crocs.  The complaint highlighted Jibbitz's trademarks in the Jibbitz name as well as the copyrights it holds in many of its 400 designs, alleging copyright infringement, federal trademark infringement, trademark counterfeiting, trademark dilution, unfair competition, and common law trademark infringement.  The defendants did not respond to the complaint or appear at a preliminary hearing, resulting in the swift default judgment against them.
So while the DPPA, if enacted, purports to strengthen the weapons available to clothing designers, those who are creative and diligent in defending their protectable designs right now are by no means helpless.
A copy of the complaint is located
here.