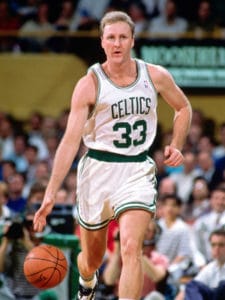 The town of French Lick, Indiana has just one claim to fame.  But it's a big one – about 6'9. " French Lick is NBA Champion and Hall-of-Famer Larry Bird's hometown.
The Anchorage Daily News reports that a couple from Alaska had hoped to capitalize on Bird's fame by purchasing his childhood home in French Lick and converting it into a bed-and-breakfast.  Adopting one of Bird's nicknames, Georgianna Lincoln and Christopher Cooke dubbed the home "The Legend of French Lick, The Former Home of Larry Bird Resort."
But Bird has leveraged his fame back against Lincoln and Cooke, alleging infringement of the trademarks he holds in his name and likeness, as well as violations of Indiana's Rights of Publicity laws, among other claims.  Cooke claims that the couple successfully negotiated for the right to use Bird's name when they purchased the property from Bird's trust – a claim Bird's attorneys deny.
The case is sure to involve classic trademark doctrines such as dilution (whereby a famous trademark is damaged through use in connection with inferior goods or services) and fair use (whereby unauthorized use of a trademark is allowed for certain purposes).  But whatever the outcome, one lesson is this: those who creatively and proactively develop a portfolio of intellectual property rights in their protectable assets are much better equipped to defend those assets – on the court, off the court, and of course, in court.
A copy of the complaint is located here
.